Action on Disability has had a busy start to kick off 2022! Find out what we have been up to…
Employment Service Update
Kensington High Street Supported Internship Update:
The Kensington Supported Interns have settled into new work placements for their 2nd term at various locations on the High Street, including the Design Museum, Freston's Cafe, Bell rock management, Atlas FM, Chelsea Registrar's, as well as Kensington Central Library.
 
Mentors from Freston's Cafe and Bell rock management were impressed by the transferable skills and knowledge their Supported interns brought forward from their previous workplaces and are encouraging/ advising them on the areas they need to improve on in order to prepare for paid employment at the end of the internship.
 
Here we have Chris, a Supported Intern in his Visitor Experience Assistant role with the Design Museum.  
Hammersmith supported internship were happy to be able to return to the Nando's placement this week! It feels great to be able to feel like everything is back to normal again after restrictions were all lifted.
 
Emmanuel had a great first day hosting at the King Street restaurant, quoting that 'it feels like I'm part of the Nando's family'

We are looking forward to our online open day event where young disabled people can find out more about what Supported Internships are.  Please keep an eye on AoD's website to find out when our individual open days will be
Charing Cross Hospital Supported Internship Update:
The DfN Project SEARCH supported internship at Charing Cross Hospital has become more recognised within departments around the hospital such as; ICT, Dermatology, Clinical Engineering, Maintenance. Majority of the interns have well settled into their new and ongoing placements for their 2ND rotation.
There are graduates here that have been working hard throughout the pandemic in roles such as portering, Pick and Pack, Ward hosting and in the Post room. The DfN Project SEARCH community is ever growing at Imperial Healthcare NHS Trust.
Below is Dev, an intern working ICT department as an ICT technician and Aya working in the Infection and Immunity Lab.
Welfare Benefit Service Update
 The Welfare Benefit Service has been very busy at the beginning of the 2022 and has been assisting clients with a variety of Welfare Benefit claims and had some lovely feedback from clients:
"The Welfare Benefit Service has been beyond supportive and knowledgeable with any questions I had, and any assistance needed. I cannot thank them enough for giving me the right advice and guidance and advice on the difficulties when submitting forms and documents"
 
"From our first conversation, the advisors were helpful, supportive, understanding and very clear in their explanations of what to do and what would come next. This in turn made the process of completing the DLA application much easier. I am very grateful for this service."
Direct Payment Support Service Update
We are always looking for people in the local area who are looking for employment in a caring role to introduce to our clients, if you are looking for opportunities to work in the area, or know someone who is, please contact DPSupport@aod.org.uk for more information. 
 
We are happy to provide training opportunities to people who support disabled people in the Borough. This could be for those who are formally employed as a carer, or for those who provide informal support to family members or friends. Please contact DPSupport@aod.org.uk for more information
Youth Service Update
Thursday Youth Club
Our Thursday youth club is open to young people aged 16 – 25. This term, young people have engaged in vibrant multi-sport sessions in parentship with London Sports trust and participated in a mentoring programme. Our mentoring programme, EMPOWER, is delivered in partnership with Kingston University and is aimed at providing support and guidance for young women and girls. This term's activities have also included art projects, board games, dance, and mental health workshops. Our upcoming mental health workshop will be delivered in partnership with YANA (You are not Alone) on the 17th of March 2022. The young people will also have access to an exclusive performance by Synergy theatre exploring the risk of youth violence.
 
Friday Junior Club
This term we are back delivering at the Lyric Hammersmith with a wide range of activities for disabled young people aged 11 – 16 years old. We started the term with upbeat street dance sessions in partnership with Dance West and lively football sessions with Chelsea Football Club. Young people have enjoyed being at the new venue and putting a stamp on their space. This term we have seen a number of new young people accessing our project which has meant that young people have been able to make new friends and have more fun! For more information, contact Brittany.granda@aod.org.uk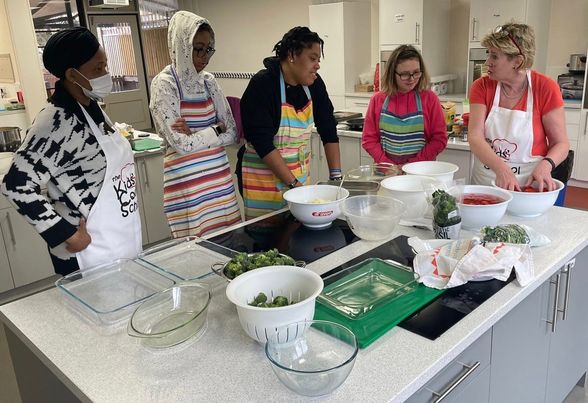 Join our Peer Support Groups
Action on Disability hosts a range of Peer Support groups, find our more below. If you are interested in joining or would like more information, then please email: stella.anaman-gillan@aod.org.uk or call 0207 385 2098

Meet and Greet on Zoom : an informal meeting on Zoom to discuss various and current topics. Tuesday 2 to 3pm weekly
 
Self-help, health and Food– This group will cover a vast range of issues, including healthy eating, exercises and how to maintain an active mind and self-help on your health condition. The practitioner is a qualified holistic therapist, diabetes mentor, acupuncturist, and a very very good listener and is open to suggestion on topics to cover. Wednesday 11 to 1 from 23rd weekly at AoD  
 
Writing for Wellbeing on Zoom: It's about getting your thoughts and feelings , at the time of writing, down on paper, It's about finding your voice. It's your story, your , experiences, your thoughts and feelings. No emphasis on full stops, writing style, comas or paragraphs, you just write what is present for you / free flow. leading  to exploration, inspiration, fresh understanding, increased confidence and personal growth. You write as you can / you cannot write the wrong thing / this is your unique story. You share what you have written, only if you so wish; this is completely your decision. You do not have to be a "good" writer or have written in the past / no judgements or criticisms. Wednesday 2 to 3pm weekly.
 
Knitting Pearl Social group on Zoom: weekly knitting group supervised by an experienced knitter and she will guide you in whatever you are making. Wednesday 2 to 3pm weekly.
 
Health and Wellbeing group: This group covers a vast range of issues from food to Breathing techniques and stress prevention. This group is in person once a month
Mental health & Wellbeing
We know that the last few years have been particularly difficult for many. As well as Action on Disability there are lots of local services that you can reach out to if you would like some support and advice.
 
Hammersmith, Fulham, Ealing & Hounslow Mind offers a service called Safe Space that operates from the Lillie Road, London and is open every evening for people to drop or phone in. Information about this can be found here: https://www.hfehmind.org.uk/get-support/hammersmith-fulham-safe-space/ There is also a Safe Space service offered in Ealing and Hounslow.
 
Hammersmith, Fulham, Ealing & Hounslow Mind also has a great page with information on other contacts which can be found here:  
https://www.hfehmind.org.uk/home/help-now/ 
We have also listed some other useful contacts below:
Samaritans – Call 116 123
SHOUT – Text 'SHOUT' to 85258
Hub of Hope – www.hubofhope.co.uk
Scope – 0808 800 3333
Shelter – 0808 800 4444
If you are feeling suicidal you should visit your doctor or A&E immediately, or call 999.
 
Y.A.N.A (You are not alone) Project – 16-25 year olds
Hammersmith, Fulham, Ealing, and Hounslow Mind (HFEH Mind) would like to introduce a brand-new project called "Y.A.N.A. (You are not alone). It is a psychoeducation and community building project for young adults of the abovementioned boroughs offering free 1:1 sessions, peer groups, and social activities.  
 
The aim is to help young people, aged 16 – 25 who are feeling isolated and lonely, make new connections in a fun and interactive way. We incorporate positive psychological practices and coping mechanisms into our collaborative group activities to support creating long-lasting social connections.  
   
If you would like to know more about our services,email YANA@hfehmind.org.uk or call on 0208 571 7454
Get Involved:
 Confident Parent Happy Child is looking for parents/carers who have a child between 3-18 years of age who want to help shape services for the future and are willing to be part of a study with UCL to promote family wellbeing. 
 
We are asking parents/carers who are interested to sign up and take part in the 13-week Strengthening Families Strengthening Communities parenting programme. In return parents can receive up to £40!
 
If you are interested in finding our more or want to take part please contact  Marina Kopanja – Parenting Projects Manager, email marina@upg.org.uk or call 07740 752679.
 
Wheelchair Skills
 Wheelchair Skills supports wheelchair users of all ages and abilities, that would like to learn new skills and build confidence in using their wheelchair. You can see more about what wheelchair skills are on our website here
The sessions run in both Camden and Islington and if you would like more information then please email: learn@wheelchairskills.org
 
The Purls.UK – Get involved!
 Get involved in The Purls.UK – Do you want to meet new people, get creative & help benefit the homeless at the same time? The why not come along!
 
Knitting and crocheting warm clothes for teenagers with cancer & homeless teenagers. Takes place every Friday at 11am – 2pm at 245 Hammersmith Road, Hammersmith Broadway, Hammersmith, W6 8PW.
 For more information, ring 07862 294794 (please leave a message)
Other local activities taking place